Pacuare River Rafting 1 Day
Raft one of the top 10 whitewater rivers in the world: the renowned Pacuare. This unforgettable Costa Rica one-day trip will be the highlight of your time here!
The Pacuare River is famous for its magnificent beauty and world-class whitewater. Our one-day trip takes you down 19 miles (29 km) of Class 3 & 4 rapids through remote rainforest past cascading waterfalls and exotic wildlife.
Your adventure begins when we pick you up from your San Jose area hotel. On the way to the Pacuare River, you will stop for breakfast. When you arrive at the rafting put-in, you will meet your certified rafting guides and get outfitted with all necessary equipment. They will give you a comprehensive rafting safety talk and instruct you on paddling basics.
Then, you and your group will begin to paddle deep into the heart of one of Costa Rica's most impressive primary rainforests. It's an adrenaline-packed day running the Pacuare's thrilling rapids. Along the way, you will pass our National Geographic award-winning ecolodge, where guests stay in the rainforest on our overnight and multi-day adventure trips. A picnic lunch, prepared by your guides, will be served at one of the beautiful riverside beaches. When you reach the take-out point, you will go to a place where you can shower and change clothes and then return to San Jose.
Trip Length: 10 hours
River Time: 3 – 4 Hours
Rapid Class: III-IV
Minimum Age: 12
Distance: 19 miles
International tourists: $105
Nationals & Residents: $85
What's Included:
Professional, bilingual, internationally-certified rafting guides
Rafting equipment
Breakfast and lunch
Changing rooms and showers after rafting
Transportation from and to San Jose (minimum 4 persons)
Early morning pick-up at major hotels in the San Jose area
Costa Rican style breakfast on the way to the Pacuare River
Transfer to Pacuare River rafting put-in
Safety orientation and paddle instruction with rafting guides
Raft down Class 2 – 4 rapids through primary rainforest, the Pacuare Gorge and lower Pacuare
Picnic lunch along the river
Finish rafting at the take-out point and transfer to a place where you can shower and change clothes
Transport back to your hotel in San Jose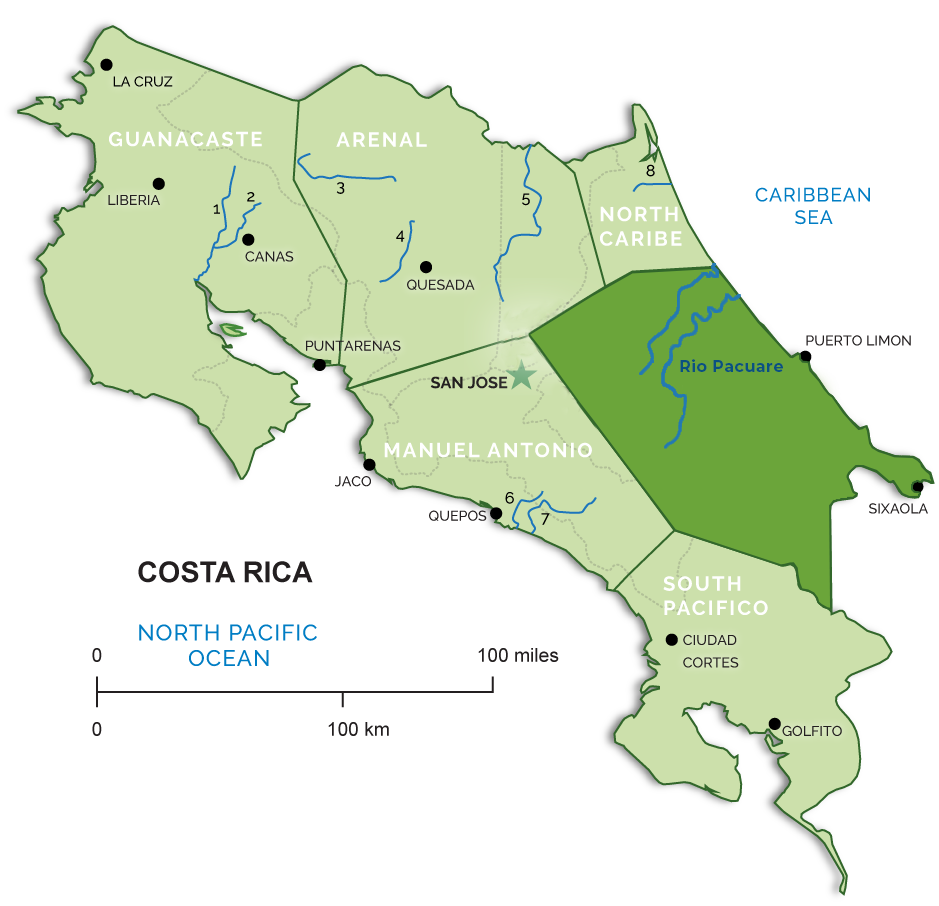 Breakfast
Typical Costa Rican breakfast: gallo pinto, eggs, ripe plantain, cheese,
bread, fruits, orange juice, and/or coffee.
River lunch
Wraps (wheat tortillas, bread, refried beans, ham, turkey ham, yellow cheese,
white cheese, tomato, lettuce, onion, sweet pepper, cucumber, chimichurri,
mayonnaise, tomato sauce, mustard) fruits, cookies, water, and natural juice.