Treat yourself to an exceptional experience by combining our thrilling Pacuare River rafting trip with staying overnight in the rainforest. You will enjoy two incredible days of whitewater rafting the Pacuare River and the Lodge
We will pick you up the first morning from your San Jose area hotel and take you to the river, stopping along the way for breakfast. When you arrive at the rafting put-in, you will meet your certified rafting guides and get outfitted with all the necessary equipment. They will give you a comprehensive rafting safety talk and instruct you on paddling basics.
After a few hours of paddling easy Class 2 and 3 rapids and a stop for a riverside picnic lunch, you will arrive at the Lodge in the heart of one of Costa Rica's most impressive primary rainforests. Comfortable rooms with private bathrooms and hot water showers are the perfect setting for an incredible night of sleeping to the sounds of nature.
In the afternoon, you can enjoy activities like guided rainforest hikes, bird watching, self-guided walks to waterfall pools to swim, and relaxing in a hammock. Evening brings happy hour and a delicious dinner in the open-air pavilion amid the vibrant sounds of the jungle and river.
In the morning, after breakfast, you'll pack up to raft out through the famous Pacuare Gorge. The experience is unforgettable as you raft exciting Class 3 and 4 rapids past cascading waterfalls and magnificent jungle. Watch for brightly colored tropical birds flying overhead and other exotic wildlife. Along the way, you'll stop for a picnic lunch that your guides will prepare. When you reach the take-out point, you will go to a place where you can shower and change clothes and then return to San Jose. International Society of Sports Nutrition position stand: energy drinks testoheal what's next for probiotics? function, steroids-sale.net and product diversity
What's Included:
Professional, bilingual, internationally-certified rafting guides
Rafting equipment
All meals for two days, except dinner on day two
Accommodation at the Lodge for one night
Guided nature hikes – vary depending on climate and difficulty level requested
Changing rooms and showers after rafting
Secure, dry transport of your luggage in a dry bag
Transportation from and to San Jose (minimum 2 persons)
International tourists: $375 (Double Rooms)
Nationals & Residents: $275 (Double Rooms)
Trip Length: 2 Days
River Time: 3 – 4 Hours
Rapid Class: III-IV
Minimum Age: 12,
Distance: 19 miles
ITINERARY DAY 1 
Early morning pick-up at major hotels in the San Jose area
Costa Rican-style breakfast on the way to the Pacuare River
Transfer to Pacuare River rafting put-in
Safety orientation and paddle instruction with rafting guides
Raft down Class 2 & 3 rapids through primary rainforest
Picnic lunch along the river
Arrive at the riverside Lodge
Dinner and overnight at the lodge
ITINERARY DAY 2
Breakfast at the Lodge
Raft down Class 3 & 4 rapids through the Pacuare Gorge and lower Pacuare
Picnic lunch along the river
Finish rafting at the take-out point and transfer to a place where you can shower and change clothes
Transport back to your hotel in San Jose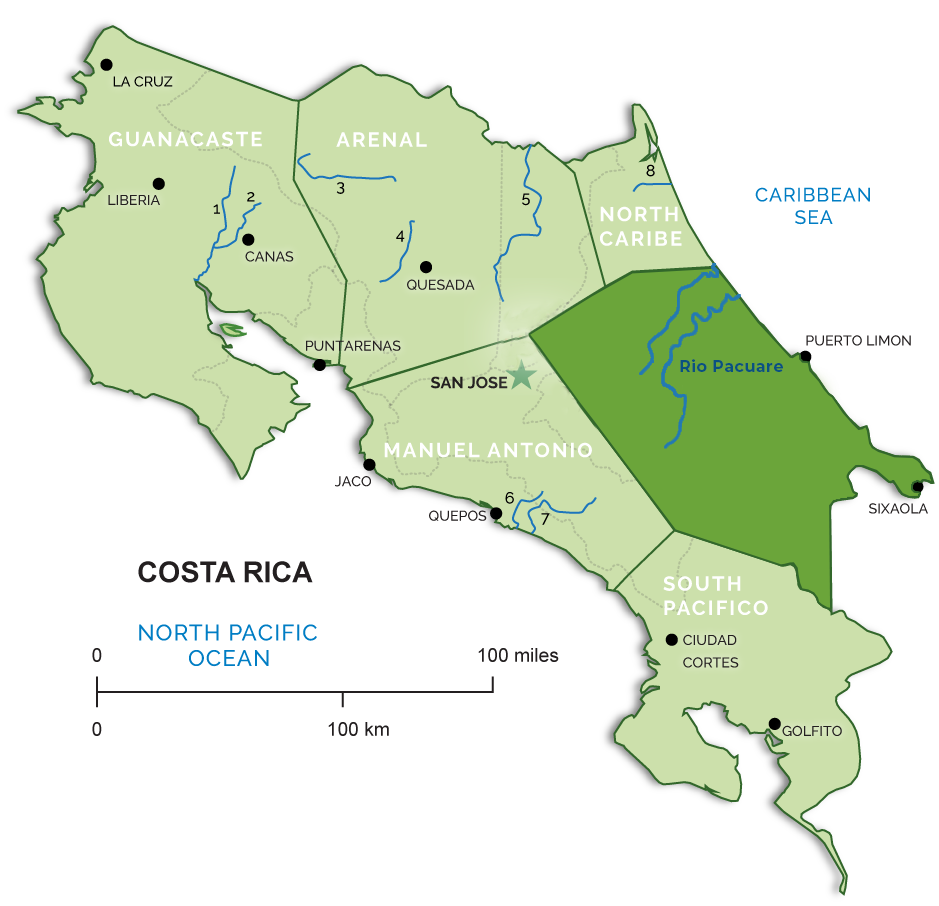 Day 1
Breakfast
Typical Costa Rican breakfast: pinto, eggs, ripe plantain, cheese, bread, fruits,
orange juice, and/or coffee.
Lunch
Burritos (ground beef, ground beans, cheese, tomato, lettuce, onion, sweet pepper,
cucumber, chimichurri, sour cream, mayonnaise, tomato sauce, mustard) fruits and dessert.
Happy hour
Sangría, chips, and ground beans.
Dinner
Grilled chicken breast with mushroom sauce, rice, salad, juice, water, and dessert
Day 2
Breakfast
Pancakes, bacon, eggs, fruits, coffee, and/or orange juice
River lunch
Wraps (wheat tortillas, bread, refried beans, ham, turkey ham, yellow cheese,
white cheese, tomato, lettuce, onion, sweet pepper, cucumber, chimichurri, mayonnaise,
tomato sauce, mustard) fruits, cookies, water, and natural juice.